Hello readers. I want to bring your attention to The Gathering. The place is in Kansas state. So what can one expect in The Gathering?According to Damien McCarron of The Indugers who got a call and who is also playing in this video: " They play rugby with crosses on fire, there's all sorts of crazy fire stuff and a 40 ft bonfire. It's in the of nowhere about 10 hours from a city and people come from Japan and Scotland.There's a banquet, the highland sports, the warriors are fed first, then the chosen ones, that's the musicians and then it goes on. So many traditions in play and the rule is there's no rules, yet everything works like clockwork."
Amazing isn't it? That's bringing the Arthurian culture right in the heartland of America so you gotta expect something unique. By the way according to Damien McCarron that sword is 8.4 lbs.
Location:
North of Cedar Bluff State Park
Exit 135 I-70, S 13 miles on Hwy 147
Information:
Aos Dana
Village of WaKeeney
202 S. 1st St
WaKeeney, KS 67672
Phone: (785) 743-2200
or (785) 743-6670
FAX: (785) 743-6480
Click the youtube video to get more info.
***
Katherine Moller
…where the explosive fusion of Celtic fiddle meets the elegant grace of classical violin…
Have you listened to any tracks of Katherine Moller lately? I think you should give this Canadian fiddler a listen because her music is exciting. There is that amazing thing that happens when Classical grace meets the explosive passion of traditional music. I think her music got the balance of two. Listen to more of her samples here because writing alone could not give justice to her amazing talent. http://www.katherinemoller.ca
***
Guess what landed in my email this week:
Artists: Robin Roberts & Billie Preston   
Album:Pay-Day Motors
Robin Roberts & Billie Preston
Album: Pay-Day Motors.
From:Wichita, KS, USA
Style: Folk, Bluegrass, Blues
This album promises a feel good kind of vibe. Listen to it after the rain and it will surely sooth your nerves and at the same time make you pay attention to the instruments use in this recording. You get to hear harmonica, acoustic guitars and female vocals harmonizing with the male lead.
Although Country Music might not appeal to all but when you really listen and realize that even if you don't like the style, you got to admire the craft then all's well. We hear a banjo on Afraid. The sound production is crisp and clear. It has that kind of brittle clarity but this is ok since it highlights the other instruments like fiddles in the background.
Those who love Irish country music and Bluegrass will embrace the sound of Pay-Day Motors. Expect only the best in musicians who have ripened in their craft. Like I said, even if you don't like the style you can't ignore the beauty of the craft. And yes after repeated listens it will grow on you. But as for me, it has already grown on me because I love this type of music.
Links:
There goes my album review.
***
Huzzah!
Hi readers. There is a delay as you have noticed. This edition should have been uploaded yesterday but an accident with my right hand took writing away for a while. Well writing and physical work. It is hard to lift heavy objects after a slight injury. Anyway most of my friends in facebook knows about this but I just want to spare you the gory details so we move on. I am posting a part of a press release for the upcoming album by Kevin O'Donnell: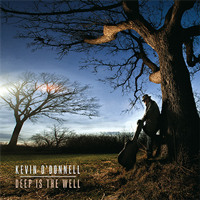 Ceolwind Productions presents:
Long awaited return of singer-songwriter and author Kevin O'Donnell to the folk music scene.
After a 15 year hiatus from playing Irish music, Kevin O'Donnell now presents his first ever solo work. 3 years in the making, DEEP IS THE WELL is an ambitious collection of original songs telling the tale of an Irish-American family through multiple generations. These poignant, emotional songs are framed by extraordinary musicianship. DEEP IS THE WELL is produced by Maurice Lennon (of Stockton's Wing) and in addition to Kevin featuresJim DeWan, Finbar Furey, Larry Gray, Kathleen Keane, Bill Lanphier, Maurice Lennon, Haley O'Donnell, John Rice, John Williams, and Jessica Willis.
Listen to Deep is the Well, and follow the descendants of Michael Fagan, a 19th century Irish immigrant, through 170 years of struggle for the American Dream. Their experiences still echo in the places they called home – from the forgotten prairie towns of the industrial heartland to the insular steel mill culture rimming the lower Great Lakes; from Times Square in New York City to the San Joaquin Valley in California; and from the frozen copper country of Lake Superior to the rain-soaked suburbs of the Pacific Northwest.
Preview
Prior to the release, preview the song "Factory Girl", keep informed on the album and release events, and, beginning May 3rd, purchase your copy of DEEP IS THE WELL on the web at www.deepisthewell.com.
Second part of this coming up on the next post.
Just another piece worth checking out concerning our artist of the week Brian Cunningham : http://vzaar.com/videos/888627
Naked in New York by Alan Cooke: For those of you of don't have a copy of this amazing book, now is your chance to grab one or two. I read it and it's like a symphony…only this time with words, not music. For those who are into poetic writing in the vein of Jack Kerouac, Henry David Thoreau and the like, you will certainly love this literary piece. http://www.wildirishpoet.com/
This is good news to aspiring new talents. The first lady of Celtic music Moya Brennan is helping emerging and enthusiastic singers, songwriters, musicians and bands by giving them a new platform to perform on : http://donegalnews.com/2013/03/moya-brennan-launches-her-new-clubeo-this-sunday/